Custom Portable Generators
Fleet Electric can modify portable generators to meet your specialized needs. We start with Honda heavy-duty industrial/commercial generators and can add custom outlets & receptacles, special start/stop controls, exhaust systems and other modifications as requested.
We stock a large inventory of Honda generators for fast delivery.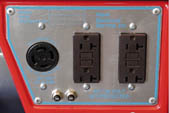 Special Outlets/GFI
Fleet can install special outlets to match your equipment.
We can also add ground fault interrupt protection and special grounding to satisfy local safety regulations.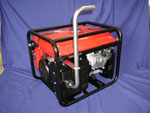 Custom Exhaust
Sometimes the standard generator exhaust points in the wrong direction or creates heat in a sensitive area. Fleet can provide customized exhaust pipes to solve these problems.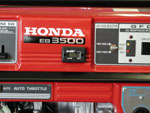 Hourmeters
Hourmeters are useful to tell when maintenance or repairs are needed.

Quick Connects
Generators are often mounted on vehicles.
For electric start models, quick connects for the cranking cables allows the operator to easily remove the generator for use off the vehicle.

Small Quick Connects
Small quick connects can be used for safety interlocks, for simplified remote electric start/stop wiring or other purposes.

Electric Start
Electric start generators often come with an ignition switch that uses a key. If the key is lost the generator is out of service. Replacing the ignition switch with a toggle switch eliminates this problem.
In addition, Fleet can offer one-wire start/stop circuits that make it easier to wire multiple remote start/stop controls such as in a bucket.

Special Decals
Special decals can be used to provide safety information about a particular situation or to inform an operator how to properly use the generator or how to follow system procedures.