Honda's legendary industrial generators have earned a reputation in the construction and rental industries for their incredibly rugged reliability. A recent Independent Survey of Construction and Industrial Users rated Honda #1.
All EB Series Honda generators have full generator GFCI circuit protection for OSHA-regulated jobsites.* The EB3000c model features Honda's CycloConverter™ technology, which makes it dramatically lighter than competitive units producing the same amount of power.
The recently upgraded EB4000, EB5000 and EB6500 models are powered by the new, technologically-advanced commercial-grade iGX engines for an even higher standard of performance. And they include the all-new iAVR power feature which minimizes voltage fluctuations and allows for increased wattage above the maximum rating for up to 10 seconds to start high amp load applications.
Of course, they're all backed by Honda's 3-year commercial use warranty and legendary reputation for performance, durability and reliability.
Available Industrial Series Models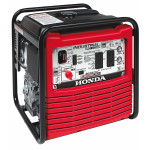 EB2800i
2800 watts, 120v
Jobsite grade – GFCI protection, OSHA & LA-ETL compliant
Lightweight & portable – less than 67 lbs.
Long run time – keeps you working all day
Advanced inverter technology – reliable power for your valuable tools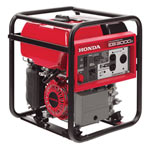 EB3000c
3000 watts, 120V
Lightweight – only 71 lbs.
Honda commercial OHV engine
Exclusive CycloConverter technology
Full GFCI protection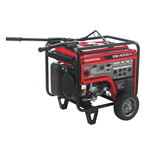 EB4000X
4000 watts, 120/240V
Provides 5,000 watts for 10 secs to start larger equipment
Honda commercial iGX engine
Full GFCI protection
Long run time – up to 16 hrs
120/240V selector switch
2 wheel kit & lift hook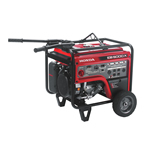 EB5000X
5000 watts, 120/240V
Provides 7,000 watts for 10 secs to start larger equipment
Honda commercial iGX engine & heavy duty frame
Full GFCI protection
Long run time – up to 11.2 hrs
120/240V selector switch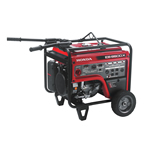 EB6500X
6500 watts, 120/240V
Provides 7,000 watts for 10 secs to start larger equipment
Honda commercial iGX engine & heavy duty frame
Full GFCI protection
Long run time – up to 10.4 hrs
120/240V selector switch
2 wheel kit & lift hook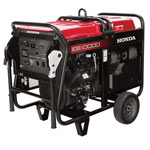 EB10000
10,000 watts, 120/240V
Honda commercial GX engine & heavy duty frame
Full GFCI protection
2 wheel kit & lift hook
Best fuel efficiency and lowest noise rating in its class
Electric start