Honda's economy generators are a reliable source of "no frills" power. These models are all equipped with Oil Alert® and a protective frame with isolation mounts for added durability.
The EG4000, EG5000 and EG6500 are new models with features including the Honda Digital Auto Voltage Regulator (DAVR) that maintains voltage stability within a +/- 1% of 60hZ, thus protecting and optimizing the equipment being powered, a large 6.3 gallon fuel tank and centralized controls for ease of use.
It's a lineup that delivers the best of both worlds, reliability and cost savings.
Available Economy Series Models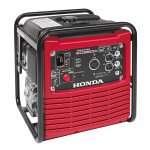 EG2800i
2800 watts, 120v
Easy to connect to your home – transfer switch ready
Advanced inverter technology – reliable power for appliances and electronics
Lightweight & portable – less than 67 lbs.
Impressively quiet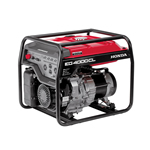 EG4000CL
4000 watts, 120/240V
Economic, portable power
Honda commercial OHV engine
Honda-exclusive DAVR (Digital Auto Voltage Regulation)
Full frame protection
Voltage Selector Switch – 120/240V operation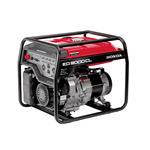 EG5000CL
5000 watts, 120/240V
Economic, portable power
Honda commercial OHV engine
Honda-exclusive DAVR (Digital Auto Voltage Regulation)
Full frame protection
Voltage Selector Switch – 120/240V operation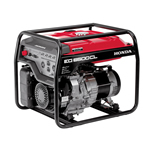 EG6500CL
6500 watts, 120/240V
Economic, portable power
Honda commercial OHV engine
Honda-exclusive DAVR (Digital Auto Voltage Regulation)
Full frame protection
Voltage Selector Switch – 120/240V operation