Honda water pumps are known for their durable construction, quality engines and easy portability. These features apply to all categories of pumps that are offered by Honda.
Construction pumps offer options to meet the tough demands of the jobsite and are equipped with Honda OHV commercial grade or OHC premium residential engines that meet EPA and CARB emission levels.
Available Construction Trash Pump Models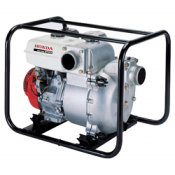 WT30XK3A Heavy-duty 3" construction trash pump
Featuring an 8 HP Overhead Valve engine, full frame, 3″ suction and discharge ports, 319 gallons per minute discharge capacity and Oil Alert.
Specifications
Engine: Honda GX240K1 8 HP Overhead Valve
Displacement: 242 cc
Bore and stroke: 2.9″ x 2.3″
Compression ratio: 8:2:1
Pump type: Trash, centrifugal, self-priming
Self-priming time: 100 sec. at 16.4 ft.
Drive system: Direct
Discharge capacity: 319 gals./min.
Suction port diameter: 3″
Discharge port diameter: 3″
Total head lift: 898 ft.
Suction head lift: 26 ft.
Maximum pressure: 39 psi Solids handling: 1 1/16 inches Dimensions: 26.0″ x 19.5″ x 20.3″
Dry weight: 132 lbs.
Strainer Honda Code: 78325-YG1-003
Residential Warranty: 3 years
Commercial Warranty: 3 years